Why do you like wasting time, life is too short to be seating down miserable and people are going to talk whether you do it right or wrong so now tell me what's
the point? Why do you care about what other people will think, look hear, you are in these relationship with your partner and not with others, so please enough of all the games, if you are tired of his/her company then why don't you just call it quit.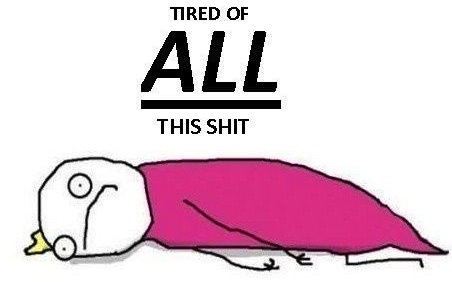 It doesn't end well even for you as the player in that relationship if all you do is toil with other people's emotion in the name of love don't get me wrong, am not causing you but its just a true natural law that nemesis will catch up with anyone guilty of such act, if you have conscience you'll know its not fair after dating her for good 3 years and all those time the immerse love she had for you then you didn't even have the half of what she gave and sacrifice in your relationship. She was thinking you'll marry her but to you it was all a game, if you feel tired at these point then you are heartless and you should be hanged for that, sometimes building a relationship that would last requires time, patience and sacrifice, but if you know all I've been saying doesn't make any sense maybe these will: if you are tired in a relationship I advice you to just leave there is no point wetting a dry plant in a desert. For how long are you going to keep pouring water on the soil of that relationship when you know its far from working out, you worth more than a million of other guys out there, and every lady is very attractive, when you where created you came with your other half but in different location, so its your job to look for your other half, maybe the one you think it is isn't it, that's why its not working out but when you find that special one you'll be flying without wings. You should beg a guy to love you, if he's the one he will surely love you, relationship originally is meant for the mature minds and for people who are ready to stay together so if you find your self in a very tight corner and you sick and tired of everything, instead of you throwing a rope around your neck, the best thing to do is to gently take your leave. There still good guys out there and good girls so don't feel bad and it doesn't matter what he or she has you'll find your perfect half, don't toil with her before things go too far, define your relationship, let her know to what extent you are willing to hold on with her so that you'll save yourself and also her so many problems you could encounter in the future. I know so many guys can't say that to their partners but if you are bold enough to do that, you'll be saving us some serious trouble, allow her to go and find her true love, allow him to go, better opportunities are outside.